铁电池简介
BYD Lithium Iron Phosphate Battery:
A Revolution in the forklift industry
The BYD Lithium Iron Phosphate battery brings a revolution to the forklift industry, with the ultimate goal of providing a cheaper, cleaner and safer solution to the material handling industry.
Revolutionary cost-saving battery:
No more battery maintenance cost, no more spare battery cost, no more changing battery cost – a one-time investment that benefits your business from day one.
Revolutionary safe battery:
No more acid handling, no more flammable gases, no more manipulation of battery, no more battery maintenance - a choice to make your business environment and community a better place to work and live in.
Revolutionary long-life battery:
No more battery changing, no more purchases of new batteries – a wise investment that minimizes your operating costs once and for all.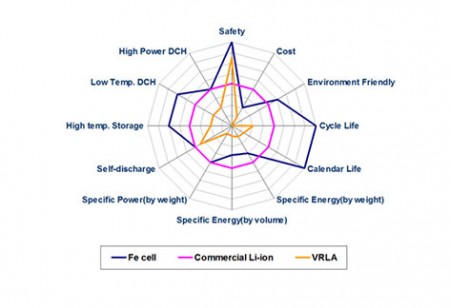 The Fe battery from BYD (lithium iron phosphate) performs excellently when compared to other battery technologies currently in use in forklifts.
Extremely long life cycle - The remaining capacity will be more than 70% after 15 years' operation.
Extremely safe – BYD the Fe battery does not emit flammable gases (hydrogen nor oxygen) as the other battery technologies do. As a result, explosions caused by gases are a physical impossibility.
Environmentally friendly – The BYD Fe battery does not contain corrosive acid nor polluting heavy metals, as other technologies do, thus becoming the most environmentally friendly battery available.
Works well in extremely low temperatures – Whether you work in cold climates or in refrigerated environments, the Fe battery will deliver more energy. As an example, at -40C, more than 60% of the energy stored is usable, which is not the case with the other technologies