Technology leader BYD provides single source for workplace transport – from the warehouse to the last mile
BYD presents its innovative technology solutions at SIL Barcelona, with a line-up of pure electric vehicles for intralogistics and transportation on its stand (D458).
For the first time, logistics managers can source their electric forklifts and electric commercial vehicles from a single manufacturer operating across a nationwide network that covers over 90% of the Iberian Peninsula.
Featuring BYD Iron-Phosphate battery technology, BYD's comprehensive range of warehouse trucks will be shown for the first time in Iberia. They will be joined at SIL by BYD's IFOY Award-nominated ECB50 counterbalance forklift truck, as well as one example of its zero-emissions pure electric commercial vehicles.
"Businesses seeking reliable, latest-generation electric warehouse and commercial vehicles across their logistics operations now need only to speak with BYD," says Javier Contijoch, Vice President of Sales at BYD Europe. "With our proven market-leading battery technology at the heart of our vehicles, supported by a growing nationwide distribution network, we can offer businesses a competitive advantage by choosing BYD forklifts and trucks."
"As one of the pioneers of the development and manufacture of lithium iron phosphate batteries across multiple industrial disciplines, we have unrivalled understanding and experience of the entire pure electric vehicle ecosystem – a claim no other single supplier can make."
The batteries utilised across the BYD range of pure electric vehicles offer outstanding performance and reliability, amounting to industry-leading Total Cost of Ownership (TCO). When compared to equivalent vehicles powered by traditional lead acid batteries, BYD Iron-Phosphate batteries require lower maintenance, have a shorter charge time, a longer working life, and use up to 40% less energy. Furthermore, BYD's batteries can be opportunistically charged during short breaks in operations, thus guaranteeing maximum uptime at the lowest-possible cost.
BYD's proven technology is currently deployed at distribution centres, ports, transport hubs and airports across Europe, and often operated under challenging time constraints in extreme conditions. Under normal operating conditions, the decision to choose BYD as a supplier of your workplace transport will be rewarded by a typical Return on Investment (ROI) of approximately four years. Supported by the assurance of BYD's industry-leading eight-year battery warranty, its workplace vehicles can generate considerable savings over the course of their working life.
Both forklifts and commercial vehicles are distributed by BYD's selected forklift dealers, ensuring customers are never far from their single-source supplier. Whether you are a single-truck user, or the operator of a large fleet of forklifts and trucks, BYD has the capacity to supply and service your equipment across the entire Iberian Peninsula. Furthermore, in the unlikely event of your local BYD dealer not having a critical part in stock, BYD's centrally-located parts warehouse in Rotterdam ensures rapid delivery of spare parts, often within a 24-hour window.
Established forklift or commercial dealers wishing to increase their potential future opportunities by offering the BYD range are also urged to speak with the BYD on-stand personnel at SIL. With some exciting new product introductions in the pipeline – particularly in its commercial and industrial vehicles and tow-tractor offering – the manufacturer is in the process of expanding and enhancing its dealer network to match its considerable ambition for the Iberian market.
BYD brings new range of warehouse equipment to SIL
BYD will be displaying its range of latest-generation warehouse trucks in Iberia for the first time on its stand (D458) at SIL in Barcelona.
Renowned as a manufacturer and global supplier of industry-leading pure electric vehicles, the tried-and-tested BYD Iron-Phosphate battery technology is at the heart of its new, attractive range of warehouse equipment. All of the forklifts and warehouse equipment on show at SIL features BYD's industry-leading eight-year or 10,000-hour (whichever comes first) battery warranty.
With maintenance-free operation and up to 40% reduction in energy use versus equivalent capacity lead acid battery-powered equipment, BYD trucks are particularly well-suited for multi-shift applications and enable both distribution partners and operators to make an easy investment decision.
The new range of warehouse trucks on display at SIL includes:
BYD PTP20S Stand-On Pallet Truck – the second-generation PTP20S is a completely re-engineered high-speed stand-on pallet truck, featuring superior stability, flexibility, and a floating driving system for optimal traction. With a 2000kg load capacity, the compact BYD PTP20S has foldable side bars and platform so can be used in pedestrian mode when operating space is restricted.
BYD PTW20S Pedestrian Pallet Truck – featuring a compact design, great manoeuvrability and an on-board charger as standard enabling charging during transportation, the agile PTW20S is ideal for safe, efficient and silent urban on-truck deliveries as it is relatively lightweight at 500kg, yet offers a generous 2000kg lifting capacity.
BYD EPS14Pi Stand-On Stacker – The high-speed EPS14Pi stand-on stacker with initial lift facilitates the transporting of two pallets simultaneously. It is designed to operate optimally in busy distribution warehouses, and works particularly effectively in cross-docking operations. Thanks to its rated lift capacity of 1400 kg and maximum lift height of 5400 mm, it is also proving to be a very popular choice in operations where intense levels of order picking take place.
BYD ECB50 4-Wheel Counterbalance Fork Lift Truck – Nominated for a prestigious International Forklift of the Year (IFOY) Award, the flagship BYD ECB50 has been engineered to exceed the performance of its diesel competitors, whilst also encompassing comprehensive features such as an (optional) air conditioned cab, double pedal, dual joystick and up to nine hours of continuous operation – comfortably enough to last for a typical full shift. With an optional super-fast charging of 400A, as well as the ability to opportunistically charge during non-operational times with zero detriment to the long-term battery capacity, the ECB50 is ideal for high-intensity applications such as paper, beverages, manufacturing, metal and recycling. Nicknamed "the diesel killer" at its launch in 2018 because of its superb performance and exceptionally low Total Cost of Ownership (TCO), the ECB50 is the only lithium iron phosphate battery-powered forklift available with the option of a European-specification ATEX explosion-proof rating, making it suitable for applications ranging from chemical factories to whisky distilleries.
Alongside the BYD range of intralogistics equipment on display at SIL is the first pure electric commercial vehicle, our incredible urban delivery minivan. The 2600kg capacity minivan has a range of 300km, and can be charged from empty to full in slightly over one hour using BYD's pioneering fast-charging technology in tandem with its battery management software.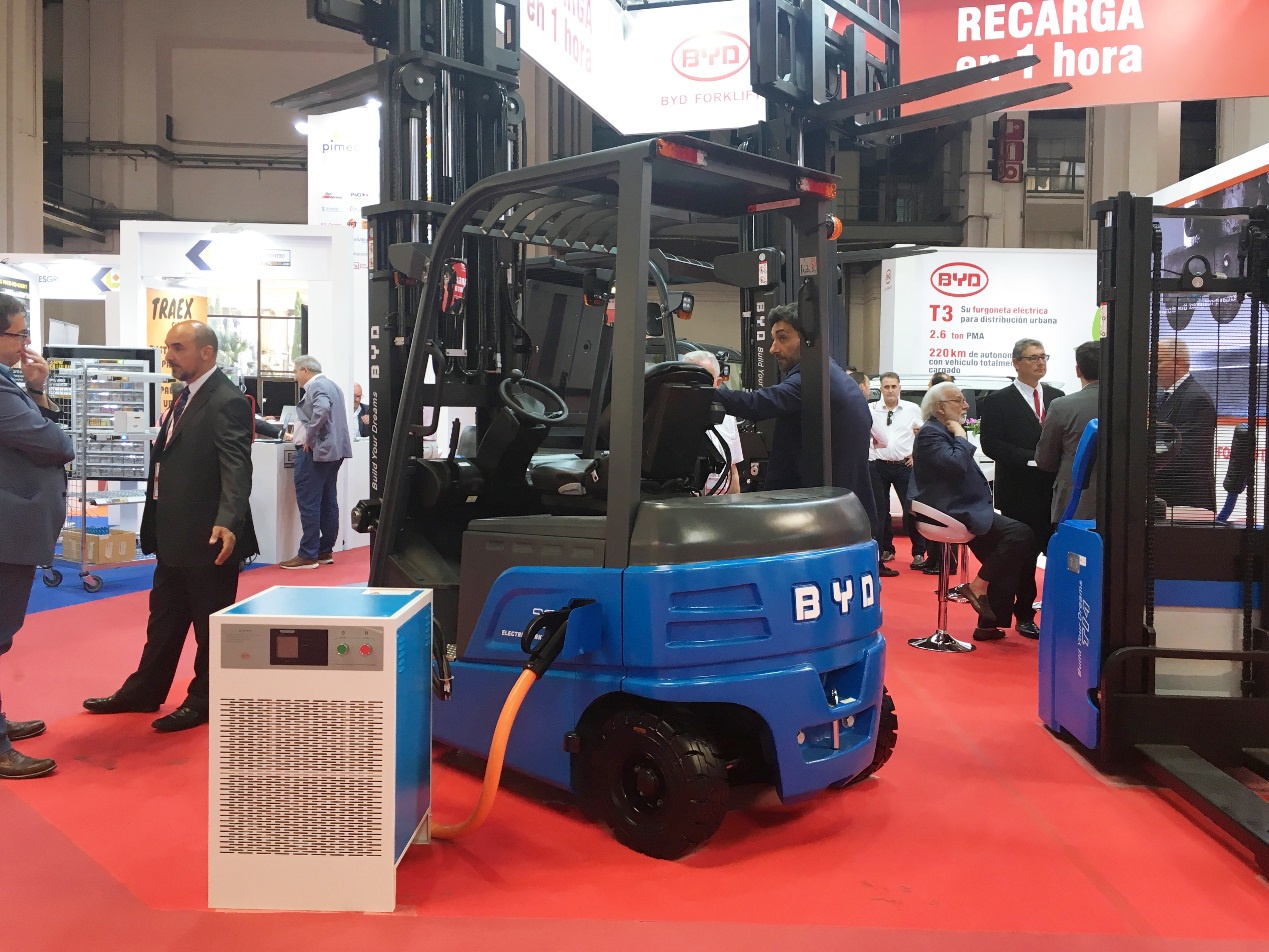 "The proven BYD Iron-Phosphate battery system allows tremendous cost savings, offering customers significant investment advantages over the equipment's operational life when compared to comparable lead acid battery-powered equipment and particularly versus diesel IC machinery," says Blade Feng, newly appointed Business Unit Director Forklift at BYD Europe B.V. "We are investing heavily in our dealer network across the Iberian peninsula, and have chosen this region as the first in Europe to feature our entire range of pure electric commercial vehicles."
Among the new models expected to break ground first in Iberia before the end of 2019 is the European-specification Q1M Tow Tractor that has been designed for heavy-duty applications in airports, ports and distribution centres. With the ability to operate continuously for more than 10 hours on a single full charge, the 37,000kg-capacity BYD Q1M is set to be a game-changer when it first reaches Europe later this year.
Supported by a dealer network that currently covers over 90% of the Iberian Peninsula, and a central European parts delivery warehouse that can rapidly ship to Iberia in 24 hours, BYD is the only manufacturer that can truly offer two zero-emission solutions – intralogistics equipment and commercial vehicles – from a single source, leading to savings and efficiency across servicing, fleet management and administration.
BYD to showcase its first pure electric commercial vehicle at SIL
As a precursor to introducing its full range of BYD Iron-Phosphate-powered pure electric commercial vehicles to Portugal and Spain next year, technology leader BYD is bringing the brand-new market-leading minivan zero-emission vehicle to SIL 2019 in Barcelona.
With BYD's minivan of BYD Iron-Phosphate battery-powered zero-emission commercial vehicle taking centre stage on its stand (D458), BYD will be showing SIL visitors a vehicle with a capacity of 920 kg, alongside key products from its range of warehouse and fork lift trucks. BYD is truly the only single-source supplier to businesses seeking to drive efficiency, cost savings and a lower carbon footprint throughout their storage, handling and distribution operations.
The commercial vehicles being showcased on BYD's stand at SIL 2019 include:
BYD Electric Minivan – designed for urban deliveries requiring a quiet, efficient, reliable and zero-emission vehicle, the attractive BYD panel van leads the way with its 300km range, rapid low-to-full charging time of just 1.5 hours, a load capacity of 920kg and proven long-life BYD Iron-Phosphate (NMC) battery technology. The acclaimed features a durable metal floor and internal side protection, sliding doors as standard on both sides, and three standard charging options: home charging 1.6kW AC; home-charging 3.3kW AC (optional 6.6kW AC); and fast-charging 40kW DC. This is on top of the comfortable and well-equipped interior, and features designed to make the electric minivan manoeuvrable and easy to drive.
BYD 7.5t Electric Truck – Featuring the largest battery (120kWh) of all 4000kg capacity trucks, the next-generation BYD can be fully charged in just 1.3 hours. Visitors to SIL will get an exclusive opportunity to pre-order this high-capability, zero-emission flagship vehicle and become among the first customers in Europe to take delivery early next year.
A proven leader in lithium iron phosphate battery technology, and with high-profile European reference sites such as Josep Tarradellas Barcelona-El Prat Airport and Transport for London, BYD's reliable and efficient advanced battery technology is at the heart of its range of commercial vehicles, buses, coaches, forklift trucks and tow tractors. As businesses seek new solutions to reduce or eliminate the carbon footprint of their logistics operations, they are increasingly turning to BYD for their market-leading zero-emission pure electric vehicles.
Referencing the technological advantages that have arisen from more than two decades of pioneering engineering and high levels of investment in development – something that manifests itself in the form of thousands of patents held by BYD – BYD Europe's Vice President of Sales, Javier Contijoch, says the BYD Iron-Phosphate battery technology at the heart of all BYD vehicle product ranges enables tremendous synergies:
"Following a crossover strategy, BYD has incorporated all application segments into its innovative development, generating synergy effects. The diverse breadth of applications in various electric vehicle and equipment product ranges and system compatibility remain unrivalled. Today, BYD's new energy solutions are successfully deployed in over 50 countries and regions worldwide for a zero-emission energy ecosystem, affordable solar energy, reliable energy storage and in particular for innovative electric transport vehicles such as those on display at SIL in Barcelona."
Supported by a dealer network that currently covers over 90% of the Iberian Peninsula, and a central European parts delivery warehouse that can rapidly ship to Iberia in 24 hours, BYD is the only manufacturer that can truly offer two solutions – intralogistics equipment and commercial vehicles – from a single source, leading to savings and efficiency across servicing, fleet management and administration.